Before going to the long Diwali break, we at NMG – Delhi decided to party on last friday and this guy was supposed to attend it. But surprisingly he went absconding leaving everyone back at office keep guessing his whereabouts! We all gurus here had a special emergency meeting to decide whats next and we deputed some detectives (including Ethan Hunt and James Bond) to find out where he is hiding.

The first satellite visuals that we have got directed us to Gateway of India, Mumbai where we saw a hulk like figure wandering with a camera wearing absolutely "nothing to care about" look on his face. The digital imaging confirmed that this is the guy we are after (See the photograph below)


What drove him to Mumbai?
It was quite surprising that we traced him in Mumbai. But at the same time we were quite eager to know what drove him to another city and what prompted him to change his decision to attend the party at office. The detectives checked his criminal records and found a crime he committed few months back. HE HAD ATTENDED FIRST ANNUAL COMIC CON IN DELHI!. It was a valuble input for Hunt and Bond and soon they found out that there is another ComicCon heppening in Mumbai that day! James Bond and Ethan Hunt were the happiest, they even danced to some bollywood hit numbers…just to celebrate the first victory. The satellite images again directed us to the venue (Picture Below)
The arrest
We hired another guy "Dark Vader" to do the honours. He searched the venue and finally found him in an artist stall wearing a completely different attire (some one had leaked our search activities to him – we doubt!). Dark Vader informed us about him and after much deliberations, we gave Vader a go ahead to confront him and asked the star wars star to bring him back dead or alive (actually we did not say "dead" – a lot of work were pending and we did not want HR to go through the entire hiring process!)
Finally that happened –  the biggest confrontation that ComicCon ever had witnessed (See below) After a lot of casualties, Vader finally persuaded him to sign an agreement where the 'Hulk' was supposed to write his ComicConexperience down as a punishment for running away from Delhi! (Now it was time for Vader to match some steps with his favorite tunes)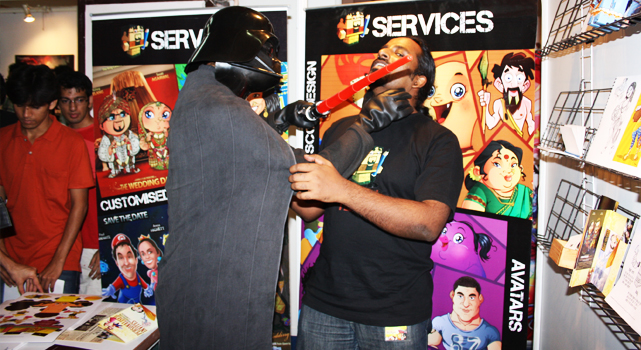 ComicCon Express Mumbai
After the first annual Comic Con in Delhi last Feb, the organizers decided to do an expedition to all cities in India with ComicCon Express and to do the annual convention in Delhi only. So this was the first ever Express Convention. If we compare it to the annual one that happened in Delhi, the Mumbai one stands tall with around 40+ participants, new artists, visit from bollywood and cosplays.
Channel V Head Mr. Prem Kamath inagurated the first travel  edition of ComicCon. After that, Indrajaal Comics relaunched their iconic character Timpa. The main attraction in the n number of launches were "Shiva" by Vimanika comics. CEO Karan Arora made it something memorable and different from the usual boaring book launches. Sufi Comics, Level 10 and Popculture publishing too had their share of stage presence during that day.
The last session of first day was memorable with the presence of the Legend, Aabid Surti. The very down to earth creator of Bahadur gave his views and shared his experiences with the listeners in this interactive session.
The second day started with Cyrus Broacha's small gig on stage to announce Annual Golden Kela Awards. Another star studded launch of the day was the Munkeeman Comic Launch. Irrfan Khan and director Abhishek Sharma were the ones who did the honours. Other bollywood representatives were the team behind RaOne comics and the Don2 team.
Artists and Publishers who deserves a mention
Kshiraj Telang, Abhijeet Kini and Libera artisti were some excellent artists who were participated. On the Publisher's front it was Vimanika Comics, Holy Cow entertainment, Level 10, Campfire and Manta Ray were a few who attaracted more crowd. There were two merchandise stalls too who attracted everyone – Bombay Merch and Buzzinga.
ComicCon is mainly targetted towards artists & writers and the sessions that they carry out. But the main problem that the Indian version faces is the lack of more good artists. People visit comic con primarily to interact with the artists. They want to know more about their working style, their experiences and their approach towards life and work.
Next comes the Publishers. The are the ones who mostly decides the fate of industry. They are the medium through which the artists & writers show their work to the entire world (most of the time). People always like to read new stuff and like to see new style. And a carefull selection of the art team by the publishers for their products will make a big difference.
The pick of the Convention were easily the paper toys by Kshiraj and the Auto Pilot comic trailer by Libera Artisti.
Aneesh Viswanath is a senior creative designer with us, who is a regular visitor and co participant at Comic Con.